The following CWS services require use of the College of Engineering's VPN when accessing from a wireless network or a non-CWS network (such as from a different campus department or from off campus):
File server project data and home directory access (network shares)
CWS printers
ArcGIS licensing
What's a VPN? A VPN is a "Virtual Private Network." It's software that changes your network connection to make your computer behave as if it is located within the CWS network.
Step 1: Open the VPN Website
In your web browser, open https://vpn.engr.ucdavis.edu/ and enter your campus Kerberos user name and password.
Step 2: Download the VPN Client Software
You will be presented with options for Windows and Macintosh software downloads of the Palo Alto Network "GlobalProtect" agent.  Download the appropriate installer for your operating system.  If you have the most recent version of OSX there is a possibility that the downloaded version of the GlobalProtect for Mac may not work.  A more recent version of the Mac agent may be available here.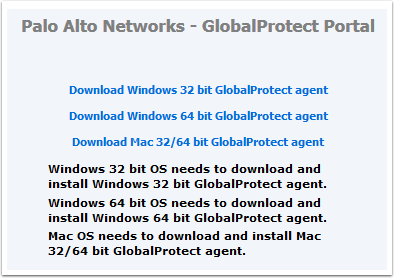 Step 3: Install the VPN Software
Install the the software on your local system (requires administrative privileges).
Step 4: Configure the VPN Software
The software should load automatically when your computer starts. For the first time, look in your Start Menu on Windows or in Spotlight Search on Mac for "Global Protect"
The first time the software starts, it will ask for your Kerberos user name and password to authenticate to the Engineering VPN and the web address of the portal. Check "Remember Me" if you would like the VPN to save your credentials.
In the portal field type in vpn.engr.ucdavis.edu
Click "Apply" and Global Protect will connect you to the VPN.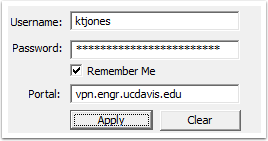 Connecting and Disconnecting
You are now finished with the one time setup. You can now freely connect or disconnect from the VPN as needed for your workflow.
You may connect and disconnect from the Engineering VPN by right clicking the GlobalProtect icon and choosing the action. The icons below show how the vpn looks when connected or disconnected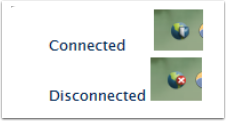 Finished!
Congratulations! You have successfully connected to the VPN.
Category